Sóc Trăng tightens measures to combat erosion
14/07/2022
The Cửu Long (Mekong) Delta province of Sóc Trăng is taking measures to prevent erosion along rivers and coasts.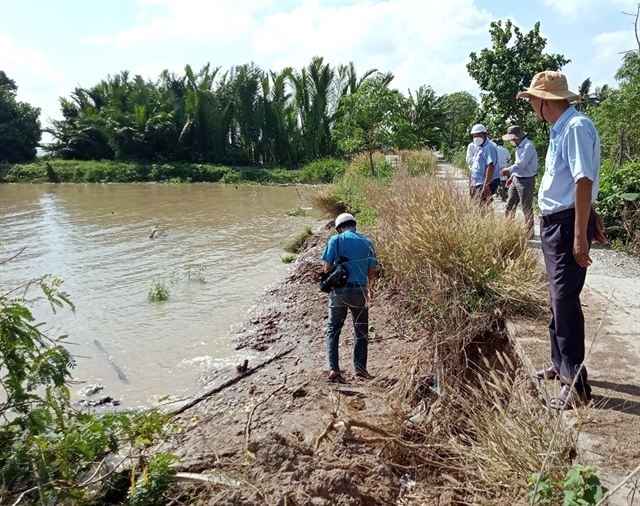 The province has faced serious erosion in many localities, threatening the safety of property and locals.
Cù Lao Dung District has faced 30 eroded areas along 2.4km of both banks of the Hậu River, a tributary of the Mekong River, in An Thạnh Đông and Đại Ân 1 communes this year.
The eroded areas have about 300 households, 30ha of aquaculture and 400ha of vegetables and fruits.
Erosion has also affected 20km of the two embankments along the Định An River in An Thạnh Đông Commune.
The province's People's Committee in April declared an erosion emergency in the Hậu River in Cù Lao Dung District.
In Kế Sách District, there have been 21 erosion cases on a combined length of 832m this year, including one case of deep erosion along the Phụng An River in An Mỹ Commune.
A bank of the Phụng An River was eroded on a section 21m long and 6m wide, causing half the riverside road to fall into the river.
Vũ Bá Quan, head of the Kế Sách District Bureau of Agriculture and Rural Development, said the district has used stakes made from cajuput and coconut trees to temporarily stop erosion and facilitate transportation.
Phạm Tấn Đạo, head of the province's Irrigation sub-department, said the district plans to make a new road 200 – 500m away from the erosion site to replace the eroded road.
Kế Sách District has managed many dangerous eroded sites with a total length of 300m this year.
There are 40 erosion-prone sites in the province, mostly in Kế Sách, Trần Đề, Long Phú, Cù Lao Dung and Mỹ Xuyên districts and Vĩnh Châu Town.
Many sections of the province's 72km coastline are facing high risk of erosion.
To solve erosion, the provincial Department of Agriculture and Rural Development in co-operation with relevant agencies and localities are inspecting erosion cases and setting up plans to solve them.
The province's People's Council has approved two projects of preventing coastal erosion in Vĩnh Châu Town. They cost VNĐ143 billion (US$6.1 million) from the central and local budgets.
Source: vietnamnews.vn