Mekong Delta begins work to keep saltwater at bay during dry season
16/01/2023
Authorities in the Cửu Long (Mekong) Delta have taken proactive prevention measures to mitigate the impacts of saltwater intrusion in rivers in the 2022-23 dry season.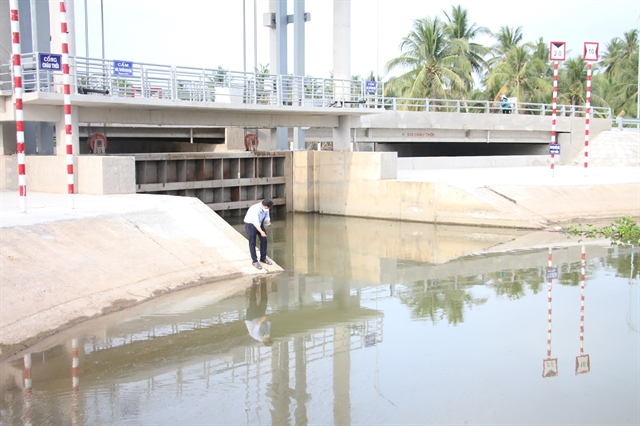 Châu Thới saltwater prevention sluice in Bến Tre Province's Giồng Trôm District. — VNA/VNS Photo Công Trí
MEKONG DELTA — Authorities in the Cửu Long (Mekong) Delta have taken proactive prevention measures to mitigate the impacts of saltwater intrusion in rivers in the 2022-23 dry season.
The country's largest rice, fruit and seafood producer normally faces this problem in the period between December and April and agriculture and the lives of locals, especially in coastal areas, are impacted.
To cope with the problem, the delta's 12 provinces and Cần Thơ City have restructured farming and built temporary saltwater prevention dams and store freshwater.
For the ongoing winter-spring rice crop authorities had instructed farmers to complete sowing before the end of December to avoid the impact of saltwater and a water shortage around harvest time.
The Trà Vinh Province Department of Agriculture and Rural Development said it has given farmers sowing schedules, instructed them in farming methods to adapt to saltwater intrusion and lack of water and how to prevent pest and disease outbreaks.
This year the saltwater is expected one month earlier than normal, it has warned.
Trà Vinh is among the localities hardest hit by saltwater in its rivers every year.
Farmers in the delta have planted nearly 1.6 million hectares of winter-spring rice.
Around 400,000ha in coastal areas in Long An, Bến Tre, Tiền Giang, Trà Vinh, Sóc Trăng, Bạc Liêu, and Kiên Giang provinces are expected to suffer from the lack of water at the end of the crop when seawater enters rivers, according to the Ministry of Agriculture and Rural Development's Plant Protection and Cultivation Department.
As they do every year, coastal provinces have repaired and upgraded irrigation works, saltwater prevention embankments and sluices or plan to do so.
Kiên Giang Province is set to build or upgrade 119 temporary dams to store freshwater for irrigation and household use during the dry season.
It expects more than 30,000 households to face a shortage.
Its Irrigation Sub-department has begun to operate the saltwater prevention sluices, including in Rạch Giá City and along the Cái Bé River.
Bến Tre Province is building several water storage works, including the supply clean water to people living in Minh riverine island and the Tân Phú and Bến Rớ saltwater prevention sluices.
The province has petitioned the Government for funds for several irrigation projects, including the Bến Tre water management project and Cái Bè pumping station and pipelines.
Huỳnh Quang Đức, deputy director of the provincial Department of Agriculture and Rural Development, said last year the province developed a number of farming models to help farmers adapt to climate change.
They include growing organic green skin and pink flesh grapefruit in Giồng Trôm District's Sơn Phú Commune and clean durian in Châu Thành District's Tân Phú Commune.
Authorities have also taught farmers techniques to tend crops in saltwater-affected areas.
In the 2019-20 dry season the province faced severe saltwater intrusion that caused losses worth around VNĐ1.7 trillion (US$72 million) to farmers.
A salinity rate of 0.2 per cent was recorded in most areas, enough to kill 5,400ha of rice, damage 28,000ha of fruits and cause a water shortage for 87,000 households.
Most plants can only tolerate salinity of 0.1 per cent.
During this dry season 0.1 per cent salinity is expected 54-68km deep upstream in rivers in February and March, according to the Bến Tre Centre for Hydro-Meteorology Forecasting.
Theo Vietnamnews